Nano Ceramic Coating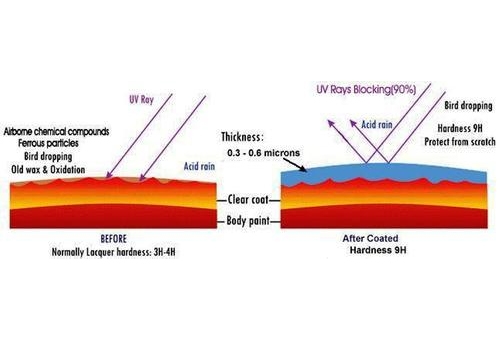 RECOMMENDED APPLICATION:-
Painted metal surfaces
Trains
Buses
Metal facades and shutters
Containers, trailers, trucks etc heavy transportation vehicles.
Car body paint and under body coating
Pipe line coating
Anti corrosive coating
CERA GLARE
Very Stable and hard Silicon dioxide Based Protective coating.
USE OF PRODUCT
Ceramic Nano Protective and Very high Durable coating use for Air Crafts, Boat (Marin coating), Car Paints And Exterior Body, Alloy wheels, Plastics, Fiber, Metal Surface like MS, Brass, Copper, Silver, Aluminum etc. Almost all Visible surface can be covered with this Coating.
HOW TO APPLY
Apply By Wiping on the Surface
ADVANTAGE
Permanent coating-permanent protection, Easy-to-clean surface enabled, Anti-graffiti & anti-fingerprint, Thermal resistance up to 600°C, Excellent resistance of weathering. UV resistance & xanthochromia proof. Advanced chemical resistance, Oxidation and corrosion resistance, Outstanding durability, Non-Flammable after cured, Room temperature curing.
CERA GLARE coatings are a unique ceramic molecular compound formula (Nano-ceramics), form transparent, very stable silicone layers, thus making them an ideal basis for multi functional coating systems that is a anti corrosive, scratch-resistant, dirt-repellent, UV-protective coating hydrophobic coating.