Silicone Base Water Repellant Coating
Silicone Base Water Repellant Coating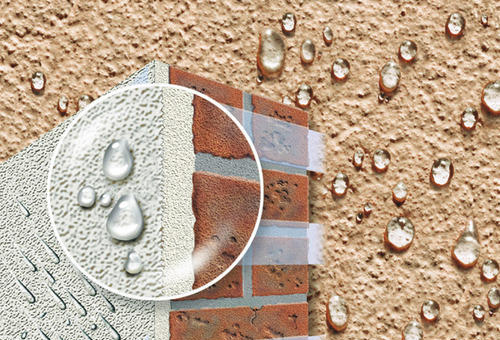 Silicon Base Transparent Water Repellent Coating (AQUA SHIELD) is a very economical, water soluble and solvent soluble of active silicone designed to impart water repellence of masonry surface. AQUA SHIELD reduces masonry maintenance cost with long term improved resistance to tropical weather. After application AQUA SHIELD reacts with moisture and carbon-dioxide in the air to form an insoluble, invisible repellent Silicone film within 24 hrs. this is Excellent Super hydrophobic , water repellant, water proof coating.
AQUA SHIELD seals hair crack also so that it work effectively on all type of pours surface.
Features:
Ready to use by brush or spray directly from container.
Preserves natural colour and texture of treated substrates.
Advantages:
AQUA SHIELD treatment is effective on all types of masonry having open bricks Abs sheet, Terracotta and Mangalore Tiles, Sand stone, plastered surface. On the treated surface, cement based or oil based paints may be applied.
AQUA SHIELD keeps water on the run by forming an invisible Silicon Surface on the masonry wall. Collection of dust on the wall can be easily washed off.
AQUA SHIELD is ready to used brush or spray directly on surface.
AQUA SHIELD Preserve original colour or texture of treated surface.
AQUA SHIELD does not clog the pores of surface, so allows surface to breath.
Additional Information:
Minimum Order Quantity: 50 liter